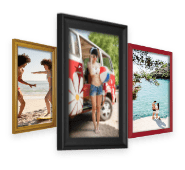 Customize your own photo frame
Enter the dimensions of your photo below (measurements can be entered up to 0.5 cm, maximum size is 100x100cm). Then click on the button Show price. You will then enter our photo frame configurator where you can choose from different types of photo frames, size and colors.
Width (cm)

Height (cm)

Show price
Perfectly made photo frames for you
Finding the right size photo frames can sometimes be difficult, but at Yourdecoration.com it is made a lot easier for you with our custom photo frames. Fill in sizes between 15cm and 100cm above and click frame maker. You will then enter our photo frame configurator where you can choose from different types of photo frames and colors.

With us you can find countless photo frames in different types of sizes. You can click on the size you are looking for in our navigation system. That way you don't spend ages trying to find the right format. We also have many more options to make the search even easier. For example, do you already know what color photo frame you want or what material?

These are all different factors that can help you find the perfect custom frame for you.

Photo frames give character to your home
The advantage of custom photo frames is that you can immediately create a lot of atmosphere in your home in a simple way. For example, go for a photo wall. You can really bring your room to life by using different custom photo frames.

You can also create a playful effect by combining different photo frames. Even if you use other types of sizes and colors, you get a completely different atmosphere, but one with a personal touch. With such a photo wall it is also nice to illuminate your family in different ways.

However, there are countless other ways to hang your photo frames. For example, go for a triptych. Here you hang three photos tightly next to each other with the same distance. Often these are also photos with the same kind of atmosphere.
Go for an accessible size
It is of course understandable if you are not quite sure which size is the right size for you. To help you with that, we have two accessible lists that always work.

For example, go for a photo frame 40x50 cm, this is an average photo frame in size. This frame would therefore fit anywhere and is also suitable for most photos.

If you prefer to go for a square model, go for a photo frame 30x30 cm. This photo frame also falls between the average size and therefore fits well in any interior.

It's actually the right size and would look good in any room. The nice thing about these dimensions is that you can hang several next to each other. This way you get a nice photo wall, but you keep it in the same style. Hanging photo frames also adds a little more character to your home and may be something you've been missing all along.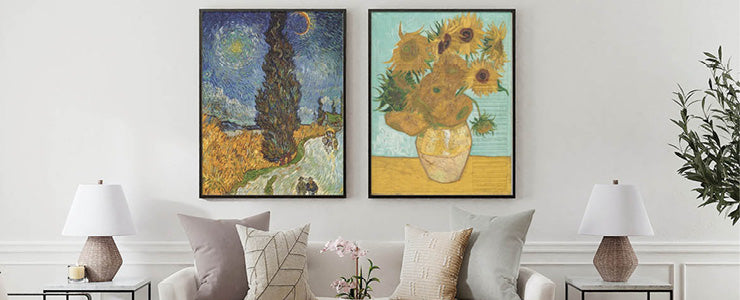 There is always plenty of choice
As mentioned before, our frames are available in different colors and materials. We have wooden, MDF, plastic and metal photo frames. So you can also conveniently filter on which material list you would like, so choosing might also be a bit easier. We also have a wide range of colours.

We have the standard colors such as black, white, silver and gold, but if you want something different, you can also choose blue, oak or red. This way you can pick it exactly according to your wishes. Do you find it difficult to make a choice? Then go for a black photo frame.

Black photo frames are in every interior and actually always let the photo or poster come into its own. If this sounds like music to your ears, you can easily order a custom black photo frame from us.

Order a custom photo frame that suits you!
You can therefore easily order a custom frame at Yourdecoration.com. All you have to do is find the right list and that is made easy with us. The only thing you need to know is which size you want, which color and possibly which material.

If you know these three factors, it is only a matter of ordering. So it's that easy to find your perfect list. You can also just scroll around on the site and who knows, you might come across the right list this way.

At Yourdecoration.com we want you to find what you are looking for. If this is not the case or if you have any questions, please do not hesitate to contact our customer service.