NEW: Your customized photo frame
In our collection we have a number of standard sizes that you can choose from. Do you have a different format? No problem! We can make (almost) any desired size for you. Now put together your photo frame in our photo frame configurator.gte of your work to be framed and we will tailor the frame for you.
Custom Size Photo Frames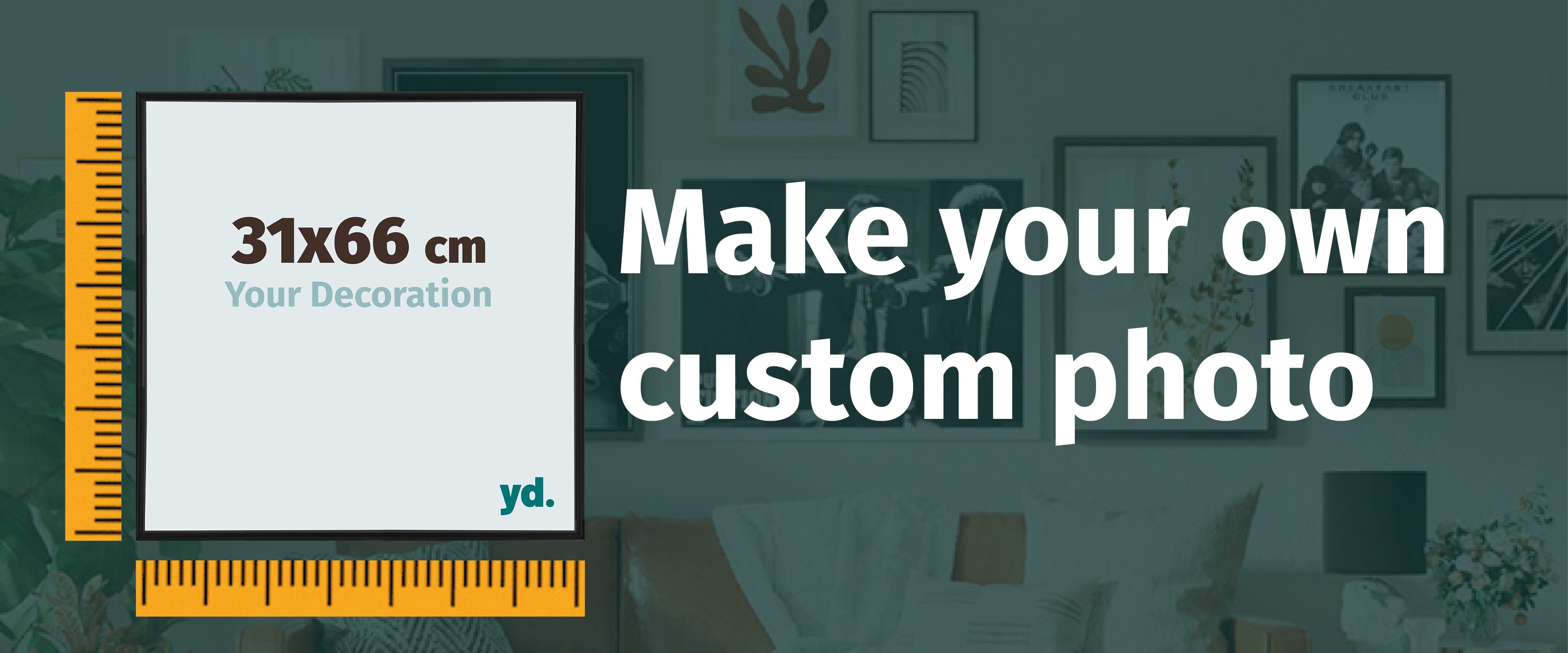 You will find the best wall decoration at Yourdecoration!

At Yourdecoration there is something for everyone. In recent years we have grown into one of the largest suppliers of wall decoration products. With our stylish wall decorations, art and posters you can breathe new life into your home.

So when it comes to beautiful photo frames, nice posters and/or wall murals, we are waiting to help you.

Of course, customer satisfaction is also our top priority. Of course you want to have your favourite family photo, holiday snapshot or photo of your dearest pet in an equally beautiful frame.

For items that we have in stock, the following applies: ordered on working days before 12:00 noon, delivered the next day. At Yourdecoration it is possible to pay everything afterwards. In addition, the legal guarantee applies to all items you purchase. As a member of home shopping guarantee, we want the best for our customers.


Wide and varying range, so there is always something that fits your style

At Yourdecoration we know how important it is to give your home the right atmosphere. Do you like abstract art or do you prefer a beautiful still life? Then you've come to the right place.

You also have the possibility of framing your favourite artwork. With this framing function you can also indicate exactly which colour you want for your frame, andwhich material and you can immediately see what the end product will look like.

Do you also want to imagine yourself on the beach close to the clear blue water or in a beautiful forest? Then go quickly to the range of photo wallpaper, brighten up your room and every day imagine yourself for a moment in a different world. Wall murals are a great way to choose the feeling you want a room to radiate. This can be imaginative, adventurous, soothing and much more.

With more than 50 different sizes, you'll never go wrong. The special thing about all our frames is that they are all made in our own frame workshop. You can also choose to include a passe partout. These are also available in different colours, shapes and sizes.

Wall decoration for young and old

With our posters there is a theme suitable for everyone, regardless of age. Do you have a kid who is a huge fan of Ariana Grande or who can play Fortnite for days on end? Then you've come to the right place. We even have something for the little ones, such as posters from Frozen, Paw Patrol and Disney.

One thing is certain at Yourdecoration, there is always a wall decoration or frame that is exactly right for you. The complete range offers high quality and a good price ratio.

Do you have questions about our products, services, collaborations and/or do you want to know more about our customization options? Please feel free to contact us via email or telephone.

We'll be happy to talk to you!